Tailored specifically to meet your needs.
We offer the ideal packaging solutions.
Looking to package your products in an easy, efficient, and cost-effective manner? As packaging experts, we're your perfect partner. With our solutions, the packaging process becomes seamless and efficient for both you and your team.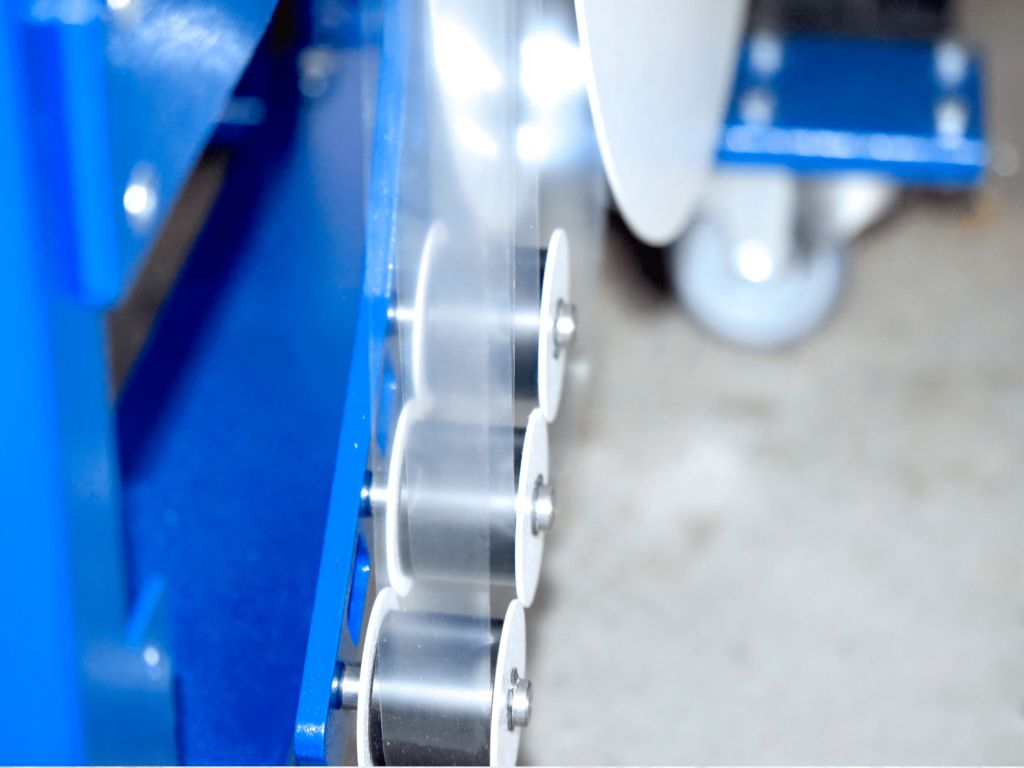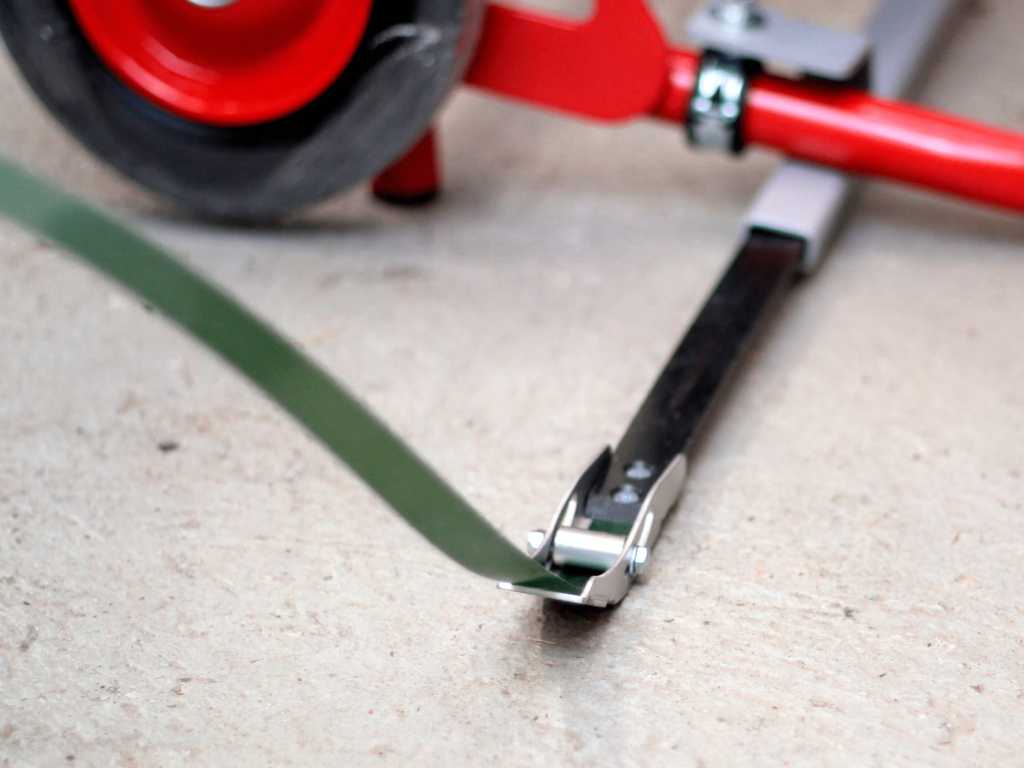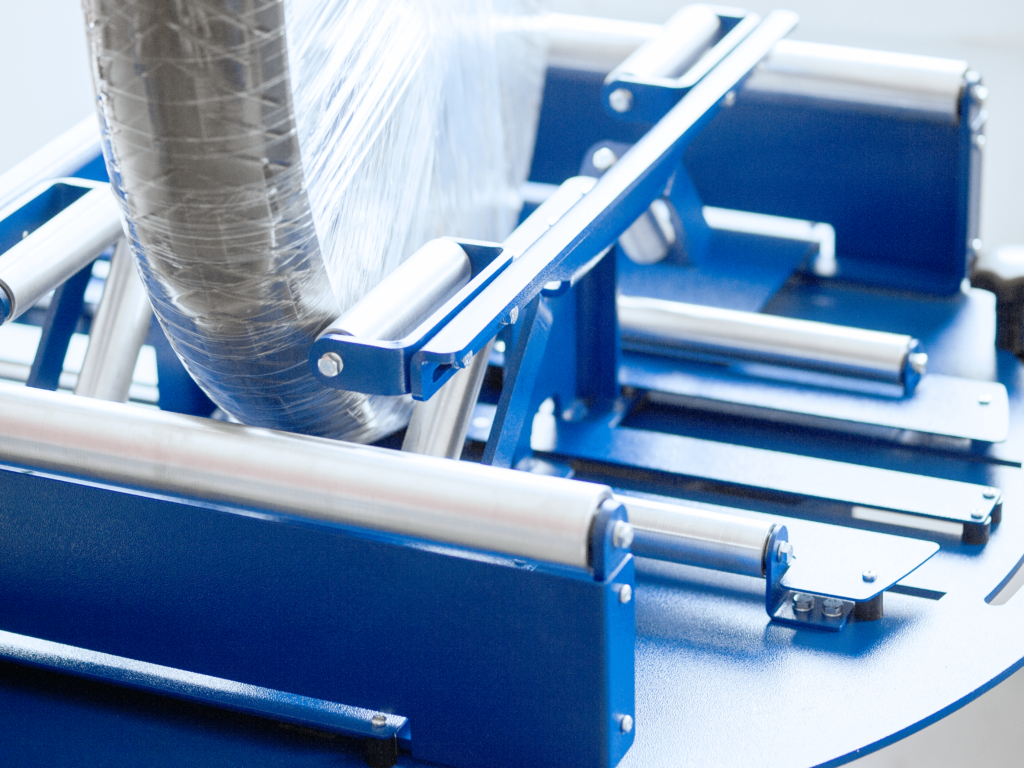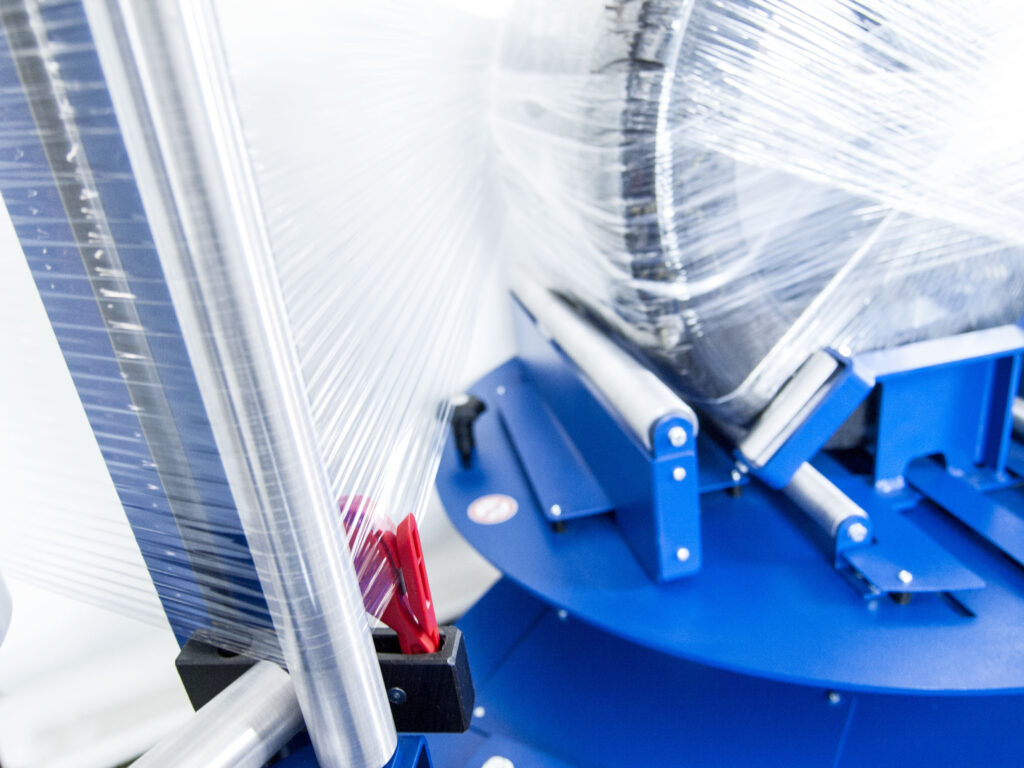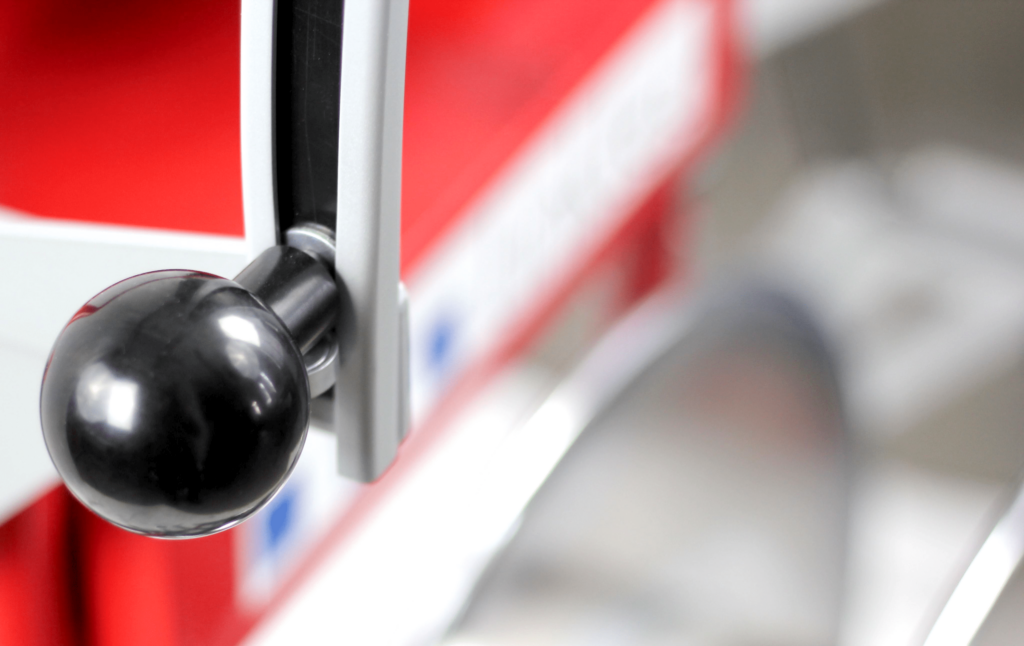 We are experts in efficient tire packaging.
Since 2001, linktec engineering has specialized in innovative tire packaging solutions. Our "Made in Germany" products are now exported globally. Through continuous dialogue with our customers, we strive for ongoing improvement and innovation. Under the motto "linktec … einfach genial" ("simply clever"), we aim for the perfect realization of your needs.
Read more

linktec engineering, headquartered in Wagenschwend, is a dedicated owner-managed company that emphasizes efficient, straightforward, and rapid tire packaging. Established in 2001, we have consistently represented unparalleled quality. Over the years, our reach has expanded, with our products now gracing every continent. As our global footprint has grown, so has our team, each member contributing to the linktec family's ethos.

Our products, crafted with meticulous attention to detail and backed by extensive expertise, are a testament to German quality and durability. At the heart of linktec engineering is a commitment to excellence, evident in every product we produce. This commitment is fueled by our constant engagement with our customers, leveraging their feedback to elevate our standards.

Our motto, "linktec … simply clever," encapsulates our approach to providing bespoke solutions in rack and magazine construction, conveyer technology, and robotics. We are with you at every project phase, from initial analysis and design to construction and after-service. At linktec engineering, we understand that for our clients, only the flawless execution of requirements truly matters.

Would you like to learn more or do you have questions?
Talk to us! We are happy to advise you without any obligation or provide you with a personalized offer.
stretchfix LT-3110
For tire dealers and logistics service providers fast, cost-efficient, and guideline compliant packaging is crucial for success. The stretchfix LT-3110, with an automatic driven turning table lets you profit from the easy operation and the low-priced use of stretch film.
With the stretchfix LT-3110 environmental protection and cost-optimization of your packaging process go hand in hand. The machine is adjustable to variable tire diameters and has the option to either wrap tires up partially or completely. Thereby a customer specific packaging solution with minimal resource consumption can be realised. Furthermore, as packaging material customary cost-efficient stretch foil is used. By insertion of further products, like accessories, into the interior of the tire package, multi-part packages can be realised for an even higher resource-efficiency.
Completely wrapped tires are offering an optimal protection against transport damages or dirtying. To protect already mounted rims, cardboard discs can be wrapped into the package.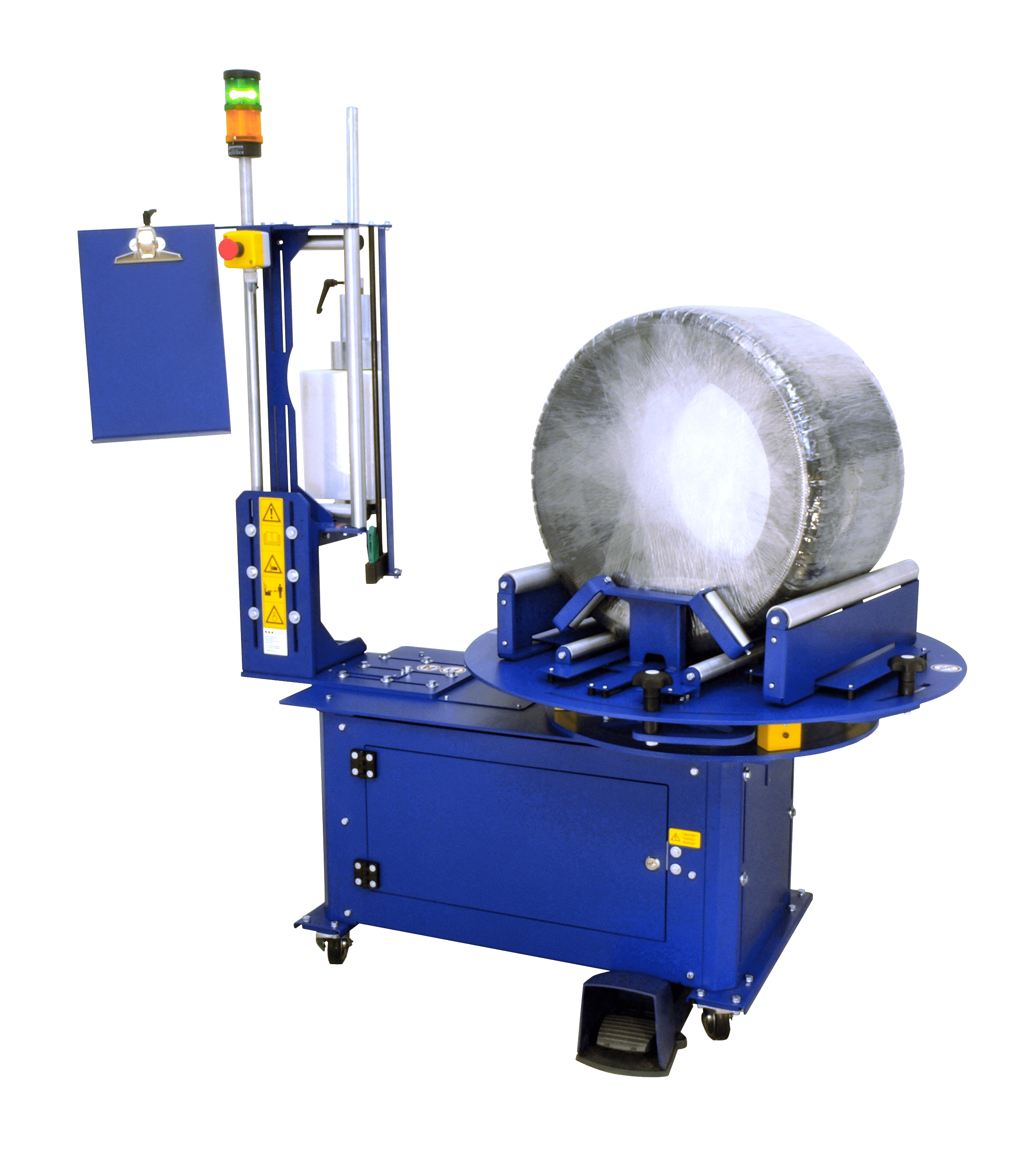 stretchfix LT-3410
The stretchfix LT-3410 is the perfect entry in the packaging of tires. Thanks to its compact build the machine is perfect as mobile, cost-efficient, and fast solution for small quantities. The proven design guarantees extreme robustness and reliability.
Through bolting the LT-3410 onto a workbench you can easily transform it into a fix packaging station. The ball bearing turning table enables a comfortable wrapping of tires up to a maximal tire width of 520mm.
The stretchfix LT-3415 comes with an elevating platform. The platform is the perfect addition for mobile usage. The working height can be easily adjusted to individual preference for a ergonomic working experience.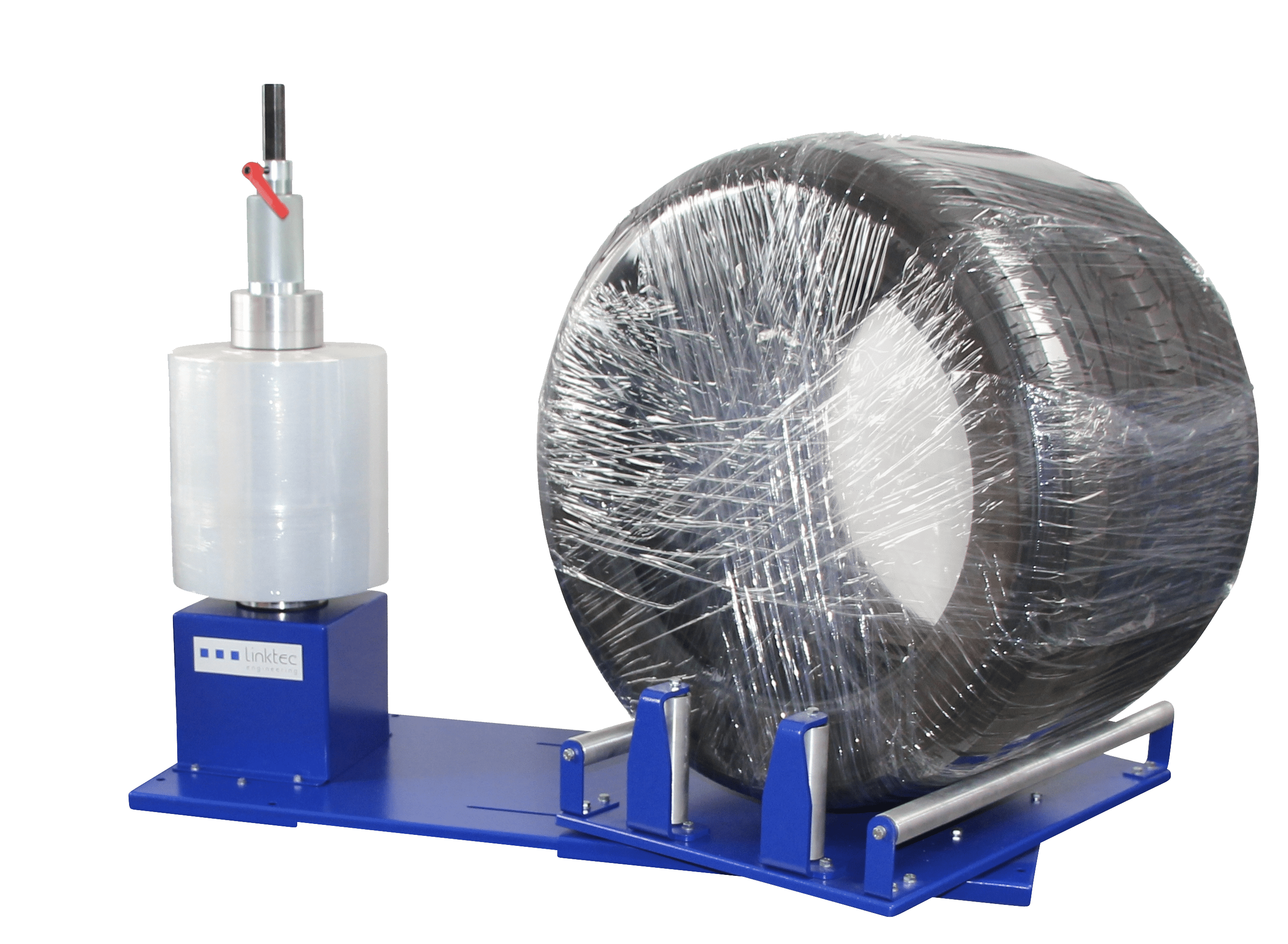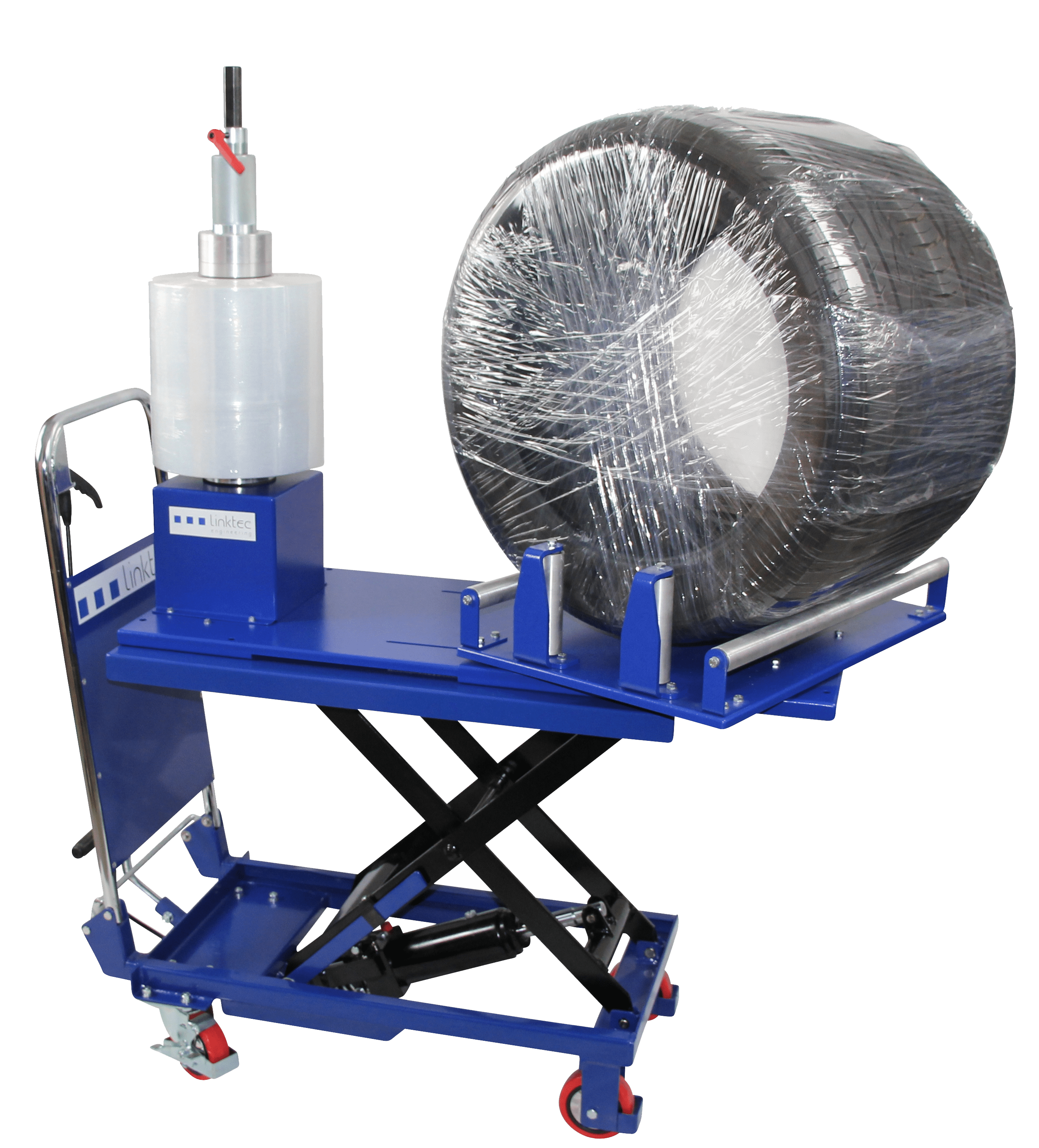 strapfix LT-2821
strapfix LT-2121 convenient tire packaging made simple
The strapfix LT-2121 is a strapping machine for simple, ergonomic packaging of pairs of tires. Strapping band as packaging material facilitates a fast, safe and very economical packing of tires with individual adjustable tension.
The particularly quick strapping is made possible by the automatic band guide which also works by packaging of tires with varying diameters.
Tire dealers and logistic service providers worldwide love the ergonomic operation of the strapfix LT-2120 because of the targeted band return, the flying mounted rollers who enable an easy turning of tires without effort.
The proven DC dear motors only work during the strapping process and therefore guarantee a high energy efficiency.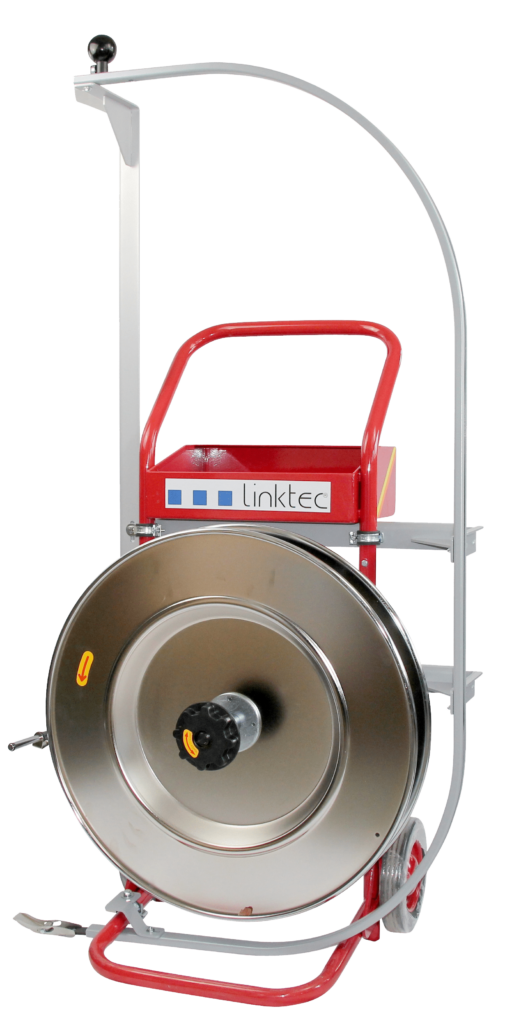 strapfix LT-2822
The universal mobile trolly strapfix LT-2822 is the bigger version of the successful strapfix LT-2821. Thanks to a longer adjustable lance, even special pallets with a length up to 2.4m can now be packaged. With the familiar quality of all linktec engineering products, the big trolly strapfix LT-2822 is characterized by the high-quality, extreme durability, fast and easy operation.
The fast, ergonomic, and safe pallet packaging with strapping band is made possible by the innovative push through assistance set. Companies profit from an obvious increase in time efficiency for manual strapping or bundling of pallets and other packages with the mobile palletisation assistant. For strong and stable securing of pallets the strapfix LT-2822 is designed for customary plastic strapping bands with a core diameter of 406mm.
The complete set consists of the mobile trolly and the installed push through assistant. The trolly is equipped with a functional braking system, durable rolls, and a big storage compartment. The push through assistant consists of an extreme robust semi-circular guide rail with integrated lance and band clamping.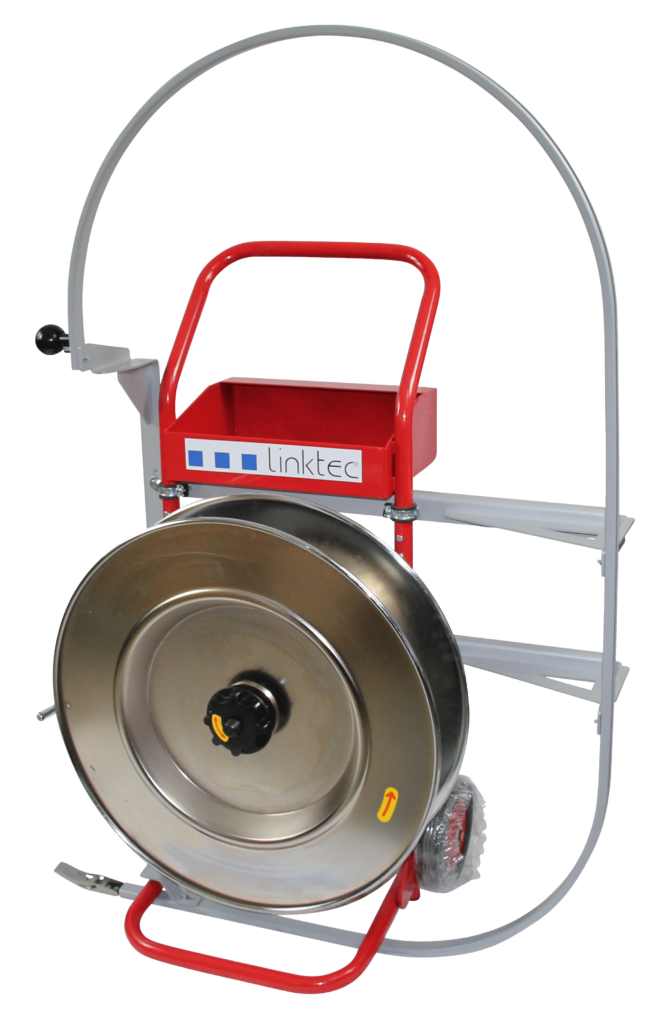 From concept to service!
Individual solutions
"linktec … simply clever". Under this motto we offer you individual engineered solutions, in the areas of rack and magazine construction, conveyer technology and robotics. We accompany you on every step of the project, from analysis, design, construction, to service with years of experience and the innovative power from Wagenschwend.
Every company with its specific products has individual requirements for the packaging process. Our goal is, to develop tailor made solutions from these requirements together with our customer and to implent them, with the familiar quality from linktec engineering.
Every implemented solution has led to a distinctive increase in efficiency of the packaging process and thereby contributes to a higher profitability of the packaging process of our customers.
We are looking forward to new challenges!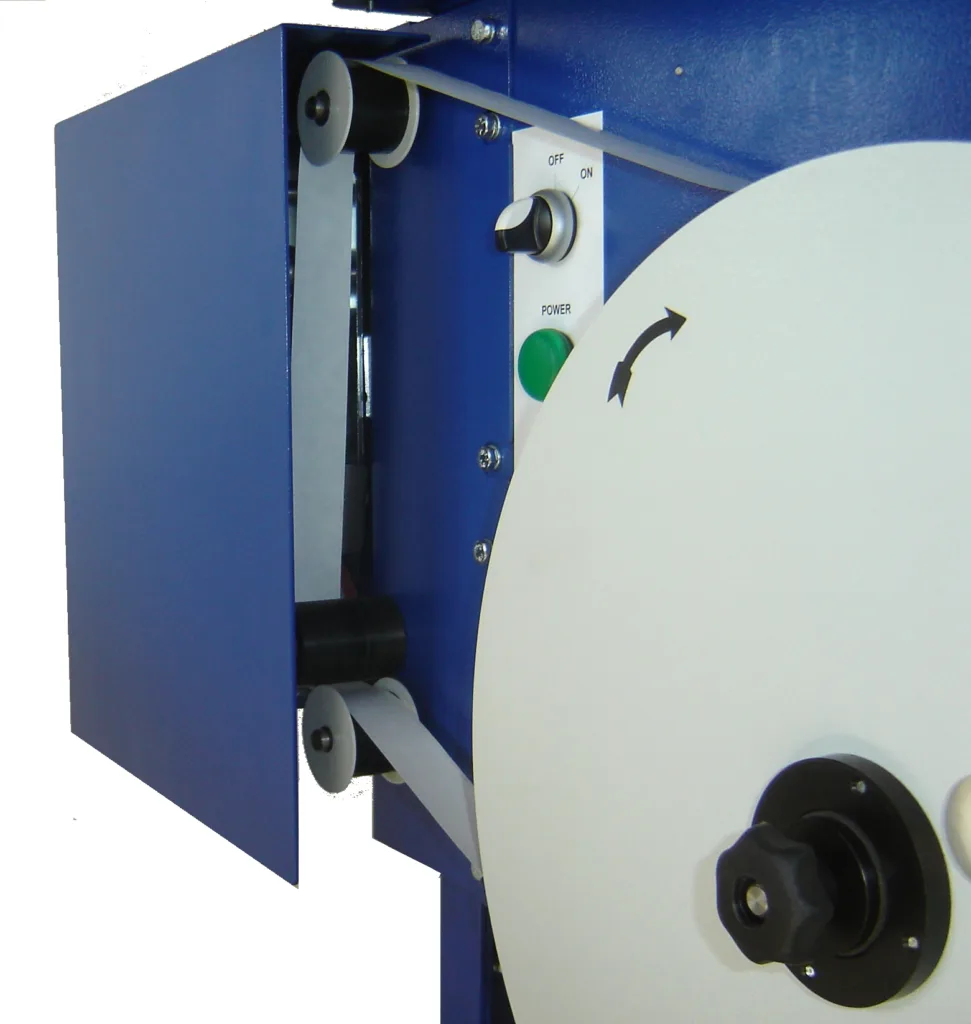 We're looking forward to hearing from you!
linktec engineering
Hauptstraße 27
74838 Wagenschwend
Deutschland
Mo. – Fr. 8:00am – 5:00pm
Please schedule an appointment with us in advance!